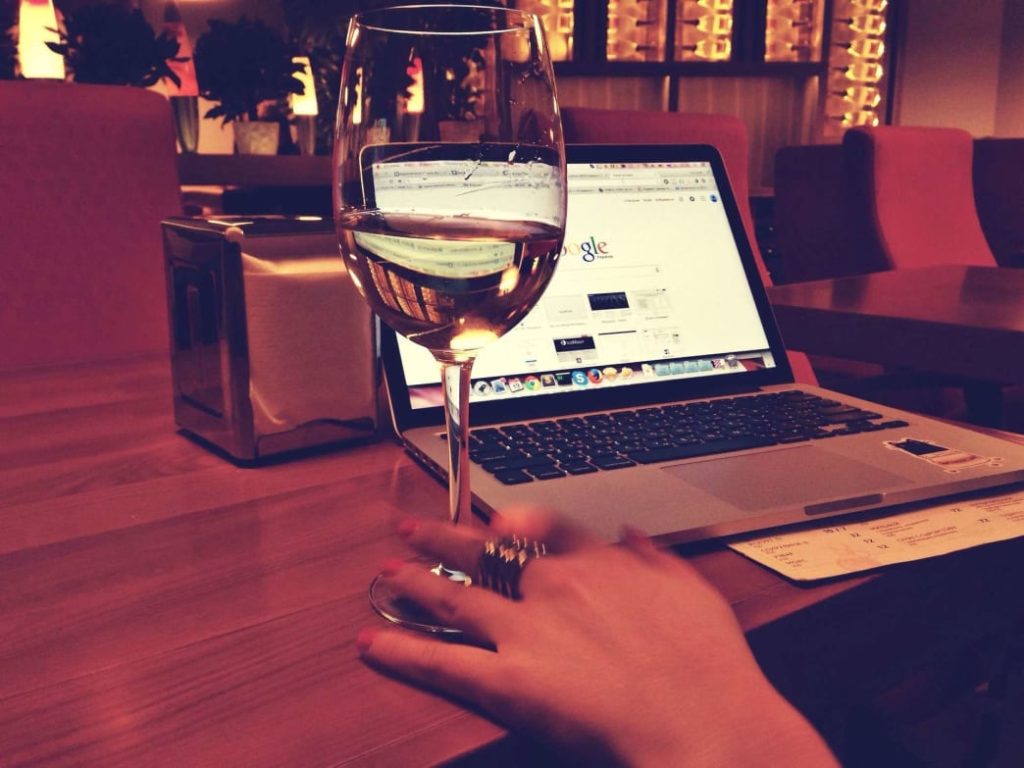 Sure, you've got a lot on your plate, but these are worth making time for.
We all know the holidays are a time of peace, love and—who are we kidding? If we make it to January with all of our hair, it's a victory. With weeks of nonstop family obligations, office events and kids' parties, working moms rarely have a moment to spare for ourselves over the holidays. So when we do, we should make them count. Sure, there are plenty of items you should cross off your list this winter. (Bye-bye, Christmas cards.) But here's the stuff you should actually make time for:
1. Shop online.
Now that this miraculous thing called the Internet exists, there is absolutely no reason to fight crowds at 4 a.m. to take advantage of Black Friday deals. Don't torture yourself like that. Shop from the comfort of your couch, and toast your ingenuity with a glass of wine.
2. Bake cookies—and eat them.
Why should Santa (e.g. your husband or the dog) get all the treats this holiday season? Baking cookies is a fun and easy way (store-bought dough for the win!) to bond with the kiddos, so go ahead and enjoy the fruits of your labor.
3. Work out at least once or twice.
A good way to enjoy those cookies without guilt? Lace up your sneakers a few times in November and December. You don't have to tackle a triathlon; just a brisk walk or two will make you feel better.
4. Build a gingerbread house and proudly post pictures of your #PinterestFail.
If you're usually allergic to crafting with your kids, we feel you. But holiday projects—especially edible ones—can be fun if you give up on perfection and go with the flow. Sure, the results will likely be a hot mess, but that's life. Crank up the holiday tunes, put down some newspaper for easy clean-up and proudly post a photo of your win or fail (or both?) on social media.
5. Put a "no party weekend" on the calendar.
Weekends in December can fill up fast with work parties and family commitments, but working moms still need to do laundry at some point. Go ahead and block off a weekend now that's just for tackling chores—or sleeping.
6. Splurge on housekeeping.
Or, if you have the budget for it, let this be the one time of year you let someone else take over the chores for you. We can't think of a better gift than a sparkling house we didn't have to lift a finger to clean.
7. Convince your mother/brother/aunt to do the hosting.
Speaking of delegating tasks, you have a lot on your plate—you don't need to worry about what's literally on everyone's plate come Christmas dinner. Now's the time to cash in that favor your mom or brother owes you.
8. Buy a fully cooked bird or ham from the store. And a pie. And possibly the sides, too.
If it's not an option to rope a relative into hosting, then give yourself permission to take as many cooking shortcuts as possible. Or, just get the big dinner delivered.
9. Wear something sparkly.
Maybe it's a family heirloom you rarely wear, or maybe it's just a little lip gloss. But breaking out something with a little shimmer will immediately put you in the holiday mood. When else are you going to wear it?
10. Get a sitter and go to that holiday party that actually sounds fun.
Now that you've broken out your sparkly duds, don't be a Grinch. Have a glass of bubbly, find some mistletoe and be merry. You deserve it.
11. Spend half an hour driving around with your kids to look at Christmas lights.
Hey, it's a free way to entertain your kids, feel festive and spend some QT together as a family. Just make sure you get to control the radio.
12. Invest in warm and stylish winter accessories.
Hats, scarves, mittens, boots … As moms, we always make sure our kids are covered head-to-toe in adorable winter gear. So why don't we do the same for ourselves? Even though our gloves have holes and our hat went missing last January, working moms stick it out in freezing temps. Well, no more! Target and Walmart have stylish winter accessories. Treat yourself.
13. Buy yourself a holiday gift.
Speaking of treating yourself, we bet you've got a gift list going for everyone in your orbit—except you. Well, Mom, you work hard for the money, so don't leave it up to Santa. Slide something under the tree for Numero Uno.
14. Take Vitamin C. All the Vitamin C.
If you think your kids aren't generous, think again. They'd love to share all the germs they picked up from school with you. And with end-of-year work deadlines and holiday commitments around every corner, you do NOT want to come down with something nasty. Treat your body well and get some sleep if you can.
15. Work from home on a day you know no one's coming in.
How to know you're working too hard: When you are literally the only person in the office on Dec. 26. You've got nothing to prove—and you couldn't anyway, since your boss is out too. Go ahead and work from home if you can.
16. Use your remaining vacation days before they expire.
On that note, if you have vacation days left that won't roll over into the new year, do NOT let them go to waste. Sadly, the average U.S. worker leaves almost half of his or her vacation days on the table every year. This is a benefit you've earned; use it.
17. Find a fireplace and drink hot chocolate in front of it.
Whether it's with your kids or your partner, nothing will get you in the holiday spirit like cuddling in front of a roaring fire.
18. Schedule a long overdue girl's night with your besties from high school who are in town.
Because eventually you'll need a break from your kids, your husband, your mom and your uncle who won't stop talking politics, go ahead and plan a night out with your girlfriends now.
19. Take advantage of the free sitters who are in town.
You know that great aunt who always says she'd love to see your kids more often? Well, here's your chance, Aunt Barbara. Mommy and Daddy will be seeing the new Star Wars movie.
20. Stay up until midnight on New Year's Eve and REALLY kiss your partner.
Even if you plan to ring in the New Year wearing your favorite pair of pajamas at home, use the evening as the perfect excuse to indulge in a little long-overdue romance.
Written by Nicole Sheinzok for Working Mother and legally licensed through the Matcha publisher network. Please direct all licensing questions to legal@getmatcha.com.
Featured image provided by Working Mother