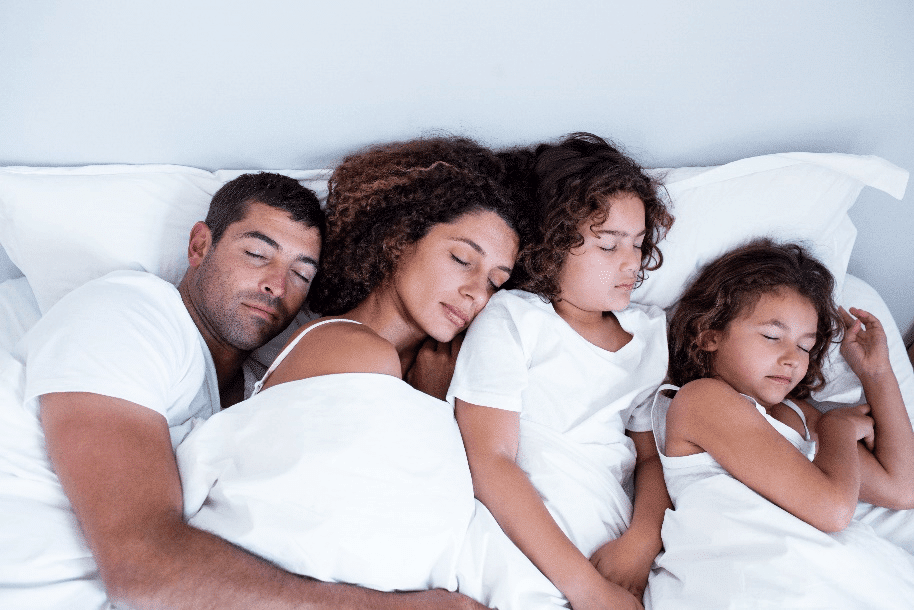 How to Adjust Your Sleep Schedule
Getting everyone on the same page, and making an effort to synchronize family sleep cycles will help get your whole household to achieve more restful sleep, even with busy schedules. Plan activities, mealtime, and bedtime routines beforehand to synchronize to circadian rhythm and form an ideal sleeping pattern for the whole family.
Schedule Activities
Working out in the afternoon and encouraging your children to participate in after-school activities will help everyone in the family sleep better at night. Getting 20 minutes of exercise per day can improve your quality of sleep by as much as
65 percent.
Synchronizing your family's activities to their body's biological clock not only prepares them for restful sleep but also helps them get the most out of exercising—on a circadian cycle, our muscles perform best and are most flexible in the afternoon.
Determine Proper Mealtimes
Eating is an external cue that greatly impacts your circadian rhythm. If your family eats at irregular times (together or separately), you'll disrupt circadian synchronization, adversely affecting everyone's sleep patterns. Make an effort to hold family dinners at the same time each night—ideally three to four hours before bed to ensure your eating habits don't disrupt circadian synchronization. Whenever your family sits down to dinner, keep it small. Consuming the majority of your daily calories during breakfast and lunch is more in tune with your body's biological needs (roughly
40 percent
of your daily calories should be consumed before 3 PM). Plan your family's meals accordingly and ensure they have a protein-packed breakfast and lunch to give them the fuel they need to function on a circadian cycle.
Establish a Bedtime Routine
Establishing a bedtime routine is imperative for synchronizing your family's sleeping schedule in accordance with circadian rhythm. Similar to the way your body responds to eating as an external cue, your biological clock is also influenced by the things you do to prepare for bed. Creating a healthy bedtime routine for your family to follow will help signal to everyone's internal clock that it's time to go to sleep. Brush your teeth when your kids do, read a book together, and go to bed at the same time every night to increase your whole family's chances of getting great sleep.
Adjust Your Sleep Schedules for Better Sleep Cycles
Creating a family schedule for activities, mealtimes, and bedtime routines will help everyone get to sleep at the same time. Help facilitate proper waking and sleeping cycles for the whole family when you plan your schedules according to your body's natural rhythms.