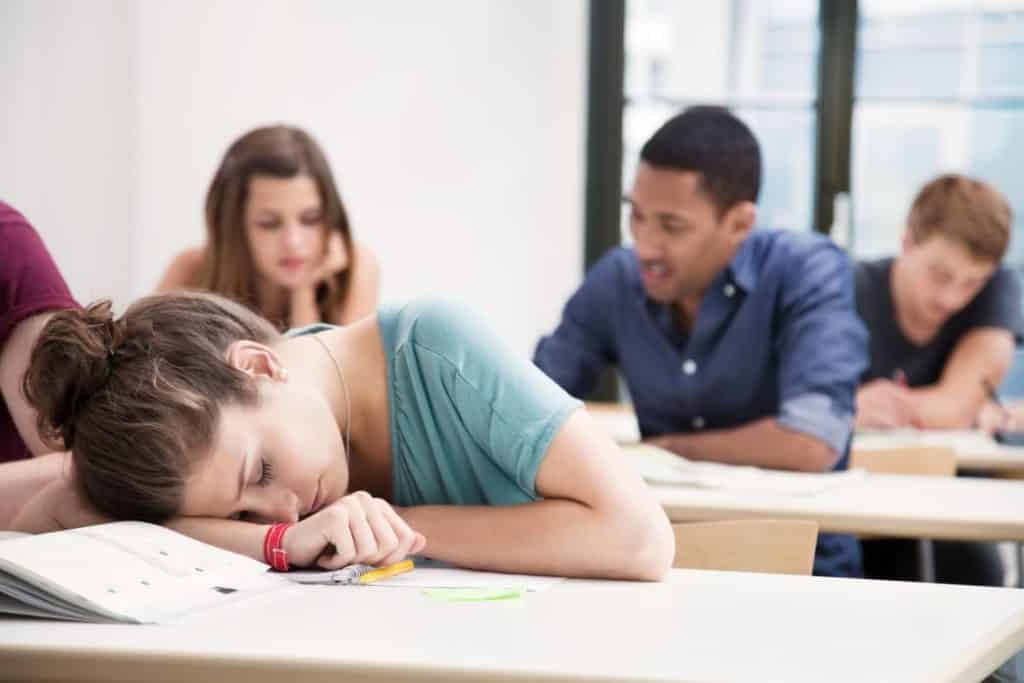 A quick midday snooze could make a difference in your teen's education.
Every parent knows that babies and toddlers need a midday nap. The consequences of zero nap-time can be catastrophic—think tantrums and tears. But do those emotional breakdowns go away as children age? As kids become teenagers, aren't the tantrums just swapped with emotional highs and lows and
constant anxiety
? So, just why did we eliminate napping? A new
observational study
conducted by researchers from the University of Delaware and the University of Pennsylvania, examined the relationship between napping and
cognitive function
and behavior of teens—and the results show the importance of sleep for teens. Funded by the National Institutes of Health, the study focused on schools in China, because midday napping is part of Chinese culture. Xiaopeng Ji, an assistant professor at the School of Nursing at the University of Delaware, and principal investigator Jianghong Liu, from the University of Pennsylvania, explained that in the United States, children are trained to stop napping as they age, but children in China are encouraged to maintain it, and school schedules actually block out times for rest. According to
Science Daily
, many people in the U.S. see the need for napping as a way to catch up or make up for lost sleep the night before, instead of associating it with cognitive benefits. According to Assistant Professor Ji, adolescents experience a developmental shift in their circadian rhythm of sleep when transitioning out of preadolescence. "Think about that in a school schedule," Ji says. "Teenagers have to get up early for school. And, with this phase delay of going to bed later, they are at-risk for chronic sleep deprivation." Ji also explains that during the daily circadian dip between noon and 2 p.m., adolescents are likely to grow tired and feel the need to sleep, but schools in the U.S. do not provide the time to do so. However, Ji and Liu found that napping five to seven days per week improved sustained attention, nonverbal reasoning and spatial memory for teens in China. According to Ji, the optimum nap lasts 30 minutes to an hour, and occurs before 4 p.m. (Naps longer than one hour can interrupt one's sleep rhythm.) The findings not only found a positive relationship between habitual napping and brain function, but also an improved quality in nighttime sleep. "In China, a midday nap is considered a healthy lifestyle," says Ji. "Routine nappers are more likely to experience healthy nighttime sleep. So routine nappers are essentially trained to sleep well and sleep more at night." And it's not just teens who could use a quick snooze. Doctors and researchers are even touting the benefits of
napping at work
for adults—and more and more companies are on board. Zappos, for example,
now offers sleeping pods
for its employees. So, let's take a page from China and start a new campaign: napping's not just for babies anymore. Written by Makenzey Shank for Working Mother and legally licensed through the
Matcha publisher network
. Please direct all licensing questions to legal@getmatcha.com.
Featured image provided by Working Mother