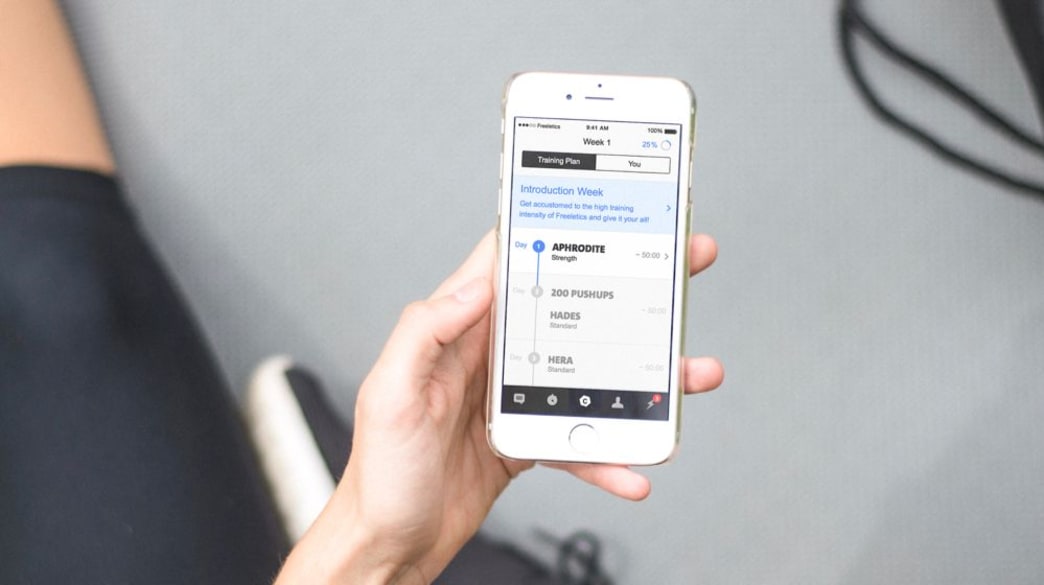 Coach presents its stars of the touchscreen with fitness apps, running apps, workout apps, healthy eating apps and more.
Best Activity Sharing App: Strava
Strava's enduring popularity (over ten million people have logged more than one billion activities) isn't down to the obsessive record-keeping of its users – it's because of Strava's social features. You can share your runs and rides with a huge community of users, congratulate others on their efforts, ask for advice, and compete with friends and rivals to nab the King of the Mountain (virtual) jersey for your local hill. Strava is incredibly simple to use for newcomers, yet also offers enough depth in the data it tracks to satisfy those who are happiest whiling away hours analyzing their performance.
Best For Tracking Running: Runkeeper
This venerable and extremely popular run-tracking app is stuffed to the gills with details about your on-foot excursions. The interface is clear and the social side of the app is well developed thanks to a 50-million strong userbase. Runkeeper also offers pro users bespoke weekly training plans.
Best For Tracking Cycling: Cyclemeter
There's a stunning array of data available for cyclists to pore over on this smartphone app, making it comfortably the best pick for stat, map and graph junkies. That wealth of information is presented well with lots of bright colours involved – always a plus in our book. Torn between this and Strava? Stop worrying – you can sync all your Cyclemeter rides to Strava easily and enjoy the benefits of both.
Best For Counting Calories: Calorie Counter & Diet Tracker by MyFitnessPal
The undisputed king of calorie-counting apps – a title held ever since the days it was simply known as MyFitnessPal. An unparalleled database of foods means it's easier to log your meals with this app than any other, which accordingly helps you track your calorie intake and detailed macros. All of which should, in theory, make sticking to a healthier diet virtually effortless.
Best For Making Indoor Training Fun: Zwift
Most cyclists and runners dread taking their training indoors, because staring at a wall for an hour while you exercise is a lot less fun than taking in the sights of the great outdoors. Zwift has changed all that by replacing the wall with the virtual world of Watopia. Sure, it's not as eye-catching as reality, but the cycling community on Zwift is especially well established and you can join in rides and races with people from all over the world through the app. Link Zwift to a smart turbo trainer and it will also change the resistance in line with the gradient you're tackling in Watopia to make for a more realistic ride.
Best For Running On A City Break: Runnin' City
A holiday doesn't have to mean a holiday from running – and why not take the opportunity to take in some of the best local landmarks at the same time? Runnin' City has a range of guided running tours that cover 120 cities, with runs of 5K, 10K and 15km available in each locale. For those concerned about running up a huge phone bill, you can download the audio and maps to your phone to use later so you don't incur any roaming charges.
Best For Posting Your Activity On Social Media: Relive
Posting runs and cycles on social media is a major part of many people's post-training routine and there's no shame in that. There is, however, some shame in constantly popping the same photo of your regular route on Instagram or falling back on sweaty selfies every time. People want variety and info on your training session, and Relive is the best way to give it to them. Link Relive to a tracking app like Strava, Garmin Connect or Endomondo, then choose an activity and sit back while Relive creates a short video that plots your route on a 3D map, detailing your peak heart rate, highest elevation and top speed. It can also automatically integrate any photos you took on the route, and you can post to a variety of social media sites at the click of a button.
Best For Improving Your Cooking: FitMenCook
They certainly do. Cooking your own food means you can keep a closer eye on things like the amount of fat and sugar, which sneak into ready meals and prepared sauces in alarming quantities. This app helps you make healthy meals quickly and cheaply, even if your culinary skills current only extend as far as beans on toast.
Best For Bike Repairs: The Road Bike Manual
Fixing and maintaining your bike yourself can be a very rewarding experience, because you get to use all the tools that normally just sit in a cupboard and achieve something without having to pay an expert for do it for you. It can also, however, be absolutely infuriating. This excellent app makes it more likely to be a rewarding process, with tutorials and videos guiding you through all aspects of bike maintenance. Each repair guide also has an introductory summary covering what tools you'll need, how long it's likely to take you and, crucially, how hard it is rated out of five, so you can properly steel yourself for the ordeal/sense of achievement ahead.
Best For Exercise Classes: Fiit
There are many subscription-based apps that try to offer a boutique gym experience in your home, with videos of classes you can follow whenever you have a spare moment, but Fiit is the best we've seen. The classes are broken down by duration (there are 25-minute and 40-minute options), type (strength, cardio or "rebalance", the latter meaning yoga and Pilates), difficulty level and even which body parts are worked. The app pairs with the Wahoo Tickr X heart rate monitor that Fiit provides, which also counts your reps in strength and cardio classes, so you can then attempt to beat those numbers next time. The production values on the videos are high and the trainers are uniformly excellent.
Best For Tracking Medication: MyTherapy Tablet & Pill Reminder
When you're prescribed a course of medication it's absolutely vital to stick to it, but if you're anything like us you'll find it's all too easy to miss a dose. It seems we're not alone – according to World Health Organisation figures, only half of people in developed countries stick to the course. That's bad for many reasons, with the main one being that an estimated 200,000 people die in the EU each year due to missed medication. Non-adherence to medication also costs the NHS hundreds of millions of pounds a year and can help develop antibiotic-resistant superbugs. This free app reminds you to take your medication, and can involve family and friends so they can prod you as well. You can also record your symptoms and mood in the app so you can track trends to see if they are related to the medication you're taking.
Best For Avoiding Bad Weather: Runcast
This nifty app provides all the weather information relevant to your run, so you can dress appropriately, or even delay heading out until the skies clear.
Best For Improving Your Sleep: Twilight
Blue light from a screen before bedtime can affect sleep, but going to bed without the electronic devices that leak the stuff is a step too far for many people. Instead of leaving your phone in the kitchen, download Twilight, which automatically covers your screen with a warm red filter once dusk falls.
Best For Building Your Own Interval Workouts: Intervals
If you enjoy mapping out detailed interval workouts of any kind, but quickly lose track of what you're meant to be doing once you start really sweating, get this app. Plan your sessions through Intervals and it will keep you on track with timers, details on what you're meant to be doing at any given moment and what you're doing next. It's well designed, simple and has everything you require in the free version.
Best For Gambling On Your Weight Loss: DietBet
Add a financial incentive to your dieting by staking real cash on your weight loss. DietBet users buy into a pot with thousands of others and those that hit their weight-loss targets share the winnings. The money itself won't be life-changing, but the weight loss could be.
Best For Getting Active And Nostalgic: Pokémon Go
Every little helps when it comes to exercise, so if the prospect of catching multi-coloured creatures from your childhood gets you moving, then have at it. There is some debate around how much Pokémon Go actually benefits fitness, but if you play the game, you do have to get up and walk about. The evidence of that is the mind-boggling 8.7 billion kilometres players walked in the first six months of the app's life. Yes, a lot of people really like Pokémon.
Best For Tracking A Wide Variety Of Sports: Endomondo
What sets Endomondo apart from other activity-tracking apps is the sheer number of sports you can record with it, from the most common – running, cycling (both sport and commuting) and hiking – to the least – snowshoeing, windsurfing and canicross (running off-road with your dog).
Best Recipe App: SideChef
This free app offers a menu of more than 3,000 recipes with step-by-step instructions. SideChef also has instructional videos, nutrition tips and integrated timers, all to help you stay on track in the kitchen.
Best For Making Running Fun: Zombies, Run!
The ultimate in running gamification, Zombies, Run! plunges you into a world where the undead run amok and you are the key to humanity's survival. Each run is one of 200 missions where you attempt to gather supplies for your base in a bid to rebuild civilisation. The strength of Zombies, Run! is in the combination of an immersive story with an extremely slick app, all of which helps distract from any pain in your legs. There are four missions available in the free version, plus a new free mission each week. For those who can't wait that long, the premium subscription unlocks everything.
Best For Guided Bodyweight Workouts: SWORKIT
Circuit training is an appealing idea, but for many people compiling a list of exercises to ensure a comprehensive workout is too much like hard work. Fortunately, SWORKIT has oodles of options.
Best For Strength Training Plans: Freeletics Bodyweight & Freeletics Gym
Freeletics creates a personalised plan for your fitness, using solely bodyweight exercise so you can get in shape anywhere (Freeletics Bodyweight) or free weights if you train in the gym (Freeletics Gym). Slow-motion videos teach you every exercise and there's motivation aplenty to be found in the thriving Freeletics community.
Best For A Six-Pack: Runtastic Six Pack Abs
There are many apps available that promise to deliver six-pack abs, but this is the pick of the bunch.
Best For Beginner Runners: C25K
C25K's eight-week plan involves running (or walking) for 30 minutes a day, three days a week, and can transform anyone from couch potato to 5Kkm finisher.
Best For Finding Exercise Classes: MINDBODY
Find the studios and fitness classes near you with the help of MINDBODY, which lets you search by class type and location.
Best For Soundtracking Your Workouts: Fit Radio
Soundtrack your workout with playlists designed to ensure you give 110% (or a less clichéd yet equally impressive amount of effort) every time. Fit Radio has mixes for every kind of exercise, and will detect your running pace automatically to match up with the beat.
Best For Weight Training: Gymaholic
A comprehensive workout aid for those who commit plenty of time to the weights room. The library of exercises can be used in a set of workout plans for all abilities, or you can build your own custom routine.
Best Weight Training App For Beginners: StrongLifts 5x5
Simplicity is the key to this strength-training app's success. It breaks down exactly what exercises to do, including the amount of reps, sets and weight, and makes it easy to measure your progress over time.
Best For Cycling Navigation: CycleMaps
Where regular mapping apps sometimes inadvertently send you along the fastest route even if that means the busiest roads, CycleMaps will find you the route best suited to cyclists. This makes it particularly invaluable in big cities, where using the network of back roads and cycle paths can make every ride far more enjoyable.
Best Walking App: The Walk
The Walk puts you at the centre of a plot where you have to traverse the length of the UK carrying a package that could save the world. The adventure spans 500 miles, 65 episodes and 800 minutes of audio, so it should keep you walking for a while.
Best Reward App: Running Heroes
If you're a keen runner or cyclist you'd frankly be a fool not to download Running Heroes. Link it to your favourite tracking app – Strava, Garmin or whatever else – and then every activity you undertake will rack up points in the Running Heroes app. These points will net discounts on every major athletic gear brand, as well as money off races and one-off treats. The points also count towards regularly competitions for grander prizes, like a new fitness tracker.
Best For Swimming: Speedo On
Pity the poor swimmer, looking on as runners and cyclists are pandered to with app after new app. Speedo On aims to redress the balance by providing a platform to log and improve your swimming. It syncs with Misfit and Garmin waterproof trackers but what sets it apart are the training plans, challenges and benchmarking exercises to help develop your aquatic ability.
Best For Grand Challenges: My Virtual Mission
Most people will never have the time or money to embark on a grand adventure like cycling around the world or running the length of the UK. This app allows you to set up an overarching goal, which you can then chip away at via your everyday walking, cycling, running, kayaking or whatever else you do to keep yourself active.
Best For Giving Back: Charity Miles
Ramp up the endorphin rush you get at the end of exercise by adding the warm glow of knowing you've made a difference, however small. For every mile you walk, run or cycle with Charity Miles, corporate sponsors will donate money to a charity of your choice.
Best Navigation App For Heading Off-Road: Komoot
Set out for the great outdoors safe in the knowledge you won't get lost thanks to Komoot's offline maps, which include suggested routes for hikers and bikers.
Best For Exploring: Geocaching
Head outside and join the world's largest treasure hunt, seeking geocaches – small packages hidden by other users. It's addictive and will take you to some surprising places.
Best For Yoga Classes: Yogaia
A live online studio that brings yoga, Pilates and other classes into your home, for those who either don't have the time to make it to a class, or fear the judgment of other attendees when it comes to a sloppy downward dog. Although you'll be invisible to other participants, the instructor will be able to see you, so they can correct any mistakes. As well as live classes, there are also a host of recorded sessions if you don't need an instructor's guidance.
Best When You're A Man Short for Five-A-Side: Find A Player
Sometimes all the motivation you need to exercise is a pal to do it with. Input the activities you're interested in and your ability, and you'll be matched with others who need an extra body for their six-a-side team, badminton session, gym trip or whatever else floats their fitness boat.
Best Mindfulness/Meditation App: Headspace
Meditation can be a useful tool to manage stress but, like almost everything, it takes a little practice to do it properly. Headspace promises to teach you meditation in just ten minutes a day. You can test those claims with its free Take10 trial, which provides ten ten-minute sessions for beginners. The full app is pricy, but brings with it hundreds of hours of content to help you meditate.
Best Diet Planning App: Lifesum
It's the smooth design of Lifesum that sets it apart from other diet apps. Once you've set a goal – Lose Weight, Gain Weight or Be Healthier – the app tracks every part of your diet and exercise, and makes recommendations on how to progress to your target. Lifesum integrates with a host of other apps to ensure it doesn't miss a step of your activity, and is even more impressive on the diet side in the Gold version, with recipes, meal plans and comprehensive feedback on the nutritional content of your food.
Written by Nick Harris-Fry for Coach and legally licensed through the Matcha publisher network. Please direct all licensing questions to legal@getmatcha.com.