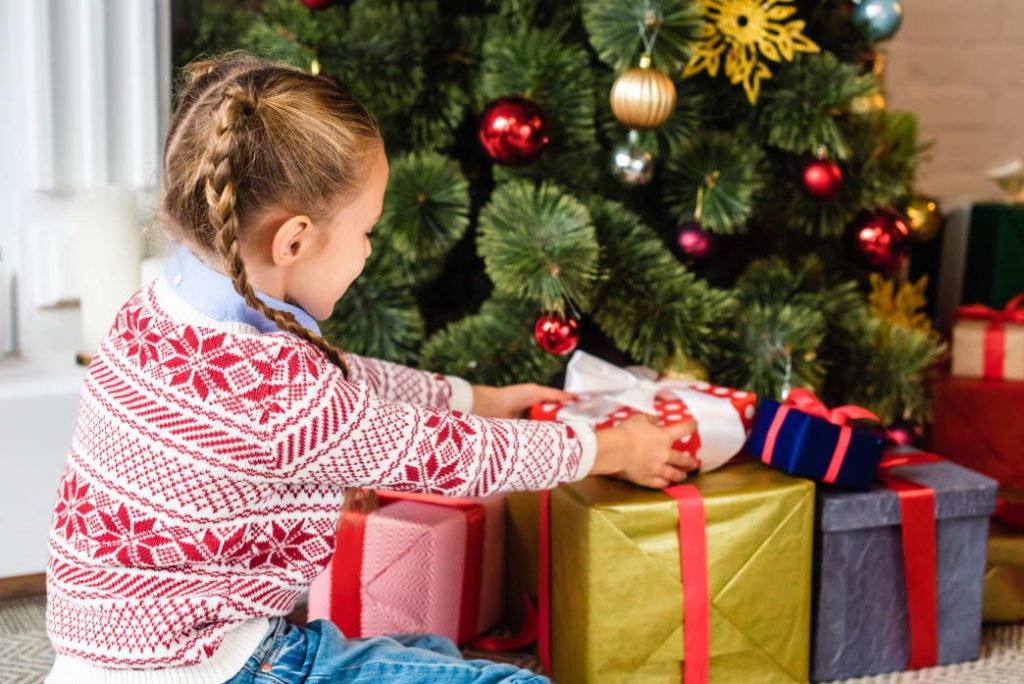 It's that joyful time of year, when every TV and radio is blitzing you with holiday ads for toys, clothes, and goodness knows what else. That not-so-subliminal messaging might come back to the kids in your life, when they end up surrounded by piles of presents on Christmas morning or Hanukkah night. Spoiling children rotten, though, isn't the healthiest way for families to enjoy the holiday season.
PopSci
chatted with Manhattan psychotherapist
Sean Grover
on some holiday gift ideas for children without the shower of presents.
Wait, so why should you not spoil your kids?
It's pretty simple—more stuff isn't going to lead to a merrier kid when it comes to gift-giving in the long run. What's important is getting the little one something—maybe only one thing—that they will cherish and remember forever. The gifts you buy children can leave a powerful positive or negative mark on their self-esteem, Grover says. That can happen in two ways. The first kind of self-esteem builder, her says, is "transient" and based on materialism. In gift speak, this means products like sneakers or a brand new phone that a kid thinks will make them more popular among their friends and classmates. But gifts that make a child feel accepted externally and maybe not internally can be problematic—and can build dependency on materialism. After all, the sneakers will go out of style, and a newer, fancier phone will be released in a couple months. When that happens, Grover says, we're back to square one. It's also essential to ask yourself why you want to spoil the kid at all. Grover notes that a lot of parents tend to gift out of guilt, either because they're working long hours or going through a divorce. If that's the case, you need to check in with yourself to make sure that the presents you're buying are ones that will help your kid, not your conscience, grow.
The best kinds of presents work with your kid's personality
One Christmas, Grover got his daughter only one gift: a high-quality guitar. "She played that thing to death," he says. Nowadays, she even plays in a band. A great holiday gift idea for children is one that gives them a chance to be creative and develop a sense of identity; those are the ones that pack the most punch, Grover notes. They help improve the second kind of self-esteem, which comes from internal attributes like strength and admiration. Whether the kid is musical, artistic, plays soccer, or likes to code, offer something that nurtures that creative spirit and doesn't just spark an exciting moment on a single day. If you feel like the transition from a bunch of gifts to one or two special items is jarring, it's okay to talk to the children in question about it. Grover suggests asking the kid what they'd want if they could choose a single extraordinary present, or if they'd prefer a slew of little prizes. Most, he adds, will probably lean toward the one present without prompting.
How to build a family culture of reciprocity
In addition to the self-esteem and materialism issues, Grover says that most "spoiled" kids don't have an organic sense of giving. Instead, they yearn to take more. That's where you as parents, aunts, uncles, and friends come in. You probably want that little human to grow up to be kind, generous, and open-minded—and showering them with gifts is just not the best way to get them there. Instead, Grover suggests incorporating the kids into all parts of the holiday cycle, including helping pick out unique presents for parents or siblings. It's no secret that
giving gifts makes people happier for longer than receiving them
, so let the young 'uns in on a little bit of that joy. "If you're going to enter into this realm of gift-giving," Grover says, "you have to make sure that your child has a sense of altruism and generosity." It's the kind of spirit that'll last for holidays—and generations—to come. RestoreZ is wishing you and your family the happiest of holidays! To learn more about our innovative, patented sleep products and how they can help you reduce stress and get better sleep, visit us at:
https://www.restorez.com/learn/
Written by Sara Kiley Watson for Popular Science and legally licensed through the
Matcha publisher network
. Please direct all licensing questions to legal@getmatcha.com.
Featured image provided by Popular Science