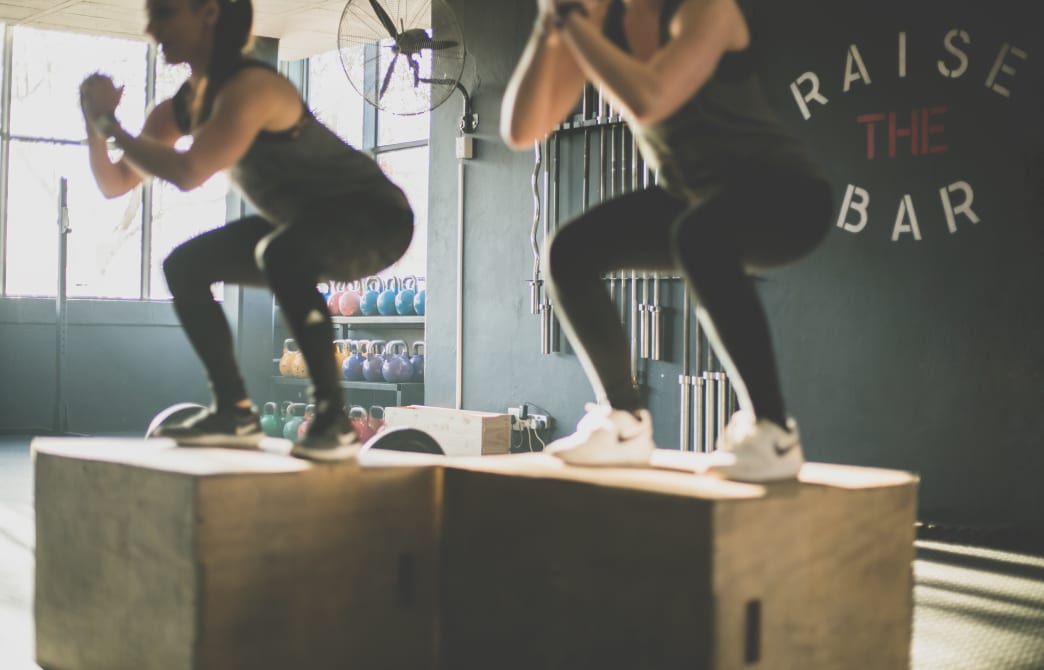 Here's everything you need to know about the set point weight theory and what it means for your fitness goals.
According to conventional weight-loss wisdom, dropping a few pounds is a matter of basic math: Burn more calories than you consume and watch the numbers on the scale plummet. But anyone who's dealt with a stubborn plateau or struggled to maintain a loss knows that in practice, the equation isn't that simple.
"The old 'calories in, calories out' idea is really only a very small piece of the puzzle," says Lauren Antonucci, RD, CSSD, CDE, CDN, a board-certified sports nutritionist and director of Nutrition Energy in New York City. In addition to diet, a combination of factors works to regulate your body's weight, keeping it at a number that's biologically ideal, according to your genetics, your physiology and your environment. This phenomenon is known as the set point weight theory.
Set Point Weight Theory, Defined
Antonucci describes set point weight as the weight you would be if you weren't concerned with how you looked in a bikini. "Let's say you just walked around eating when you were hungry, stopping when you were full," she says. "If you were eating mostly real foods, there's a place where you would land, and not everyone lands in the same spot."
While set point is still technically a theory that has yet to be scientifically proven, most experts agree that a person's standard weight is determined by a combination of genetics, physiology and environment. Your environment includes what most weight-loss plans address: diet, exercise, lifestyle and level of daily activity. Physiology encompasses all bodily functions, including your metabolism, hormones and the genetic tendency of women to carry more body fat than men. And your genetics, as they relate to your set point, can be most easily understood by looking at your ancestors' day-to-day lives — were their winters long and the food scarce? Then those with a high capacity for fat storage were most likely to survive and pass along their genes to you.
How Set Is Your Set Point?
While your genes are what they are, your body's physiology can shift — or be shifted. Puberty, pregnancy, perimenopause and menopause can all cause a change — typically a gain — in weight. Some medications also can create long-lasting increases in the body's fat supply. "That's one that people in the United States tend to be more prone to because sometimes we're giving medications such as antidepressants and people are on them for decades," explains Holly Lofton, M.D., director of the Weight Management Program at NYU Langone Health in New York City. "[Those medications] can make our fat cells more stable, an environmental change that can lead to a physiological change. That can change one's set point."
Bariatric surgery, which removes part of the stomach or creates a bypass, also alters the body's hormonal environment by removing the receptors that create hunger hormones. As a result, people who undergo this procedure typically see dramatic weight loss in the first two years. It's fair to say that they experience a change in set point, but without consistent monitoring and maintenance, this new setting may not stick. "The body sees weight loss as an illness, so it will create hunger hormones from other pathways," Lofton says. Over time, the weight may return.
If it seems like your set point is more likely to go up than down, that's because it is. Of course, it is possible to lose weight through diet and exercise, but environmental changes are just one consideration. "It's much easier to increase a set point than it is to decrease it," Lofton says. "The body just doesn't like to lose weight, it likes to gain weight."
Metabolism Versus Set Point
But what if you "boost" your metabolism? Can that lower your set point?
It's not uncommon to hear set point and metabolism used interchangeably, but they are two distinct concepts. While set point refers to your body's standardized weight, your metabolism is the amount of energy you must expend to maintain that weight, and it can be broken down into a few categories:
Basal metabolic rate (BMR), or resting metabolic rate (RMR), is the amount of energy the body requires to support its basic functions — things like thought, heartbeat and breathing.
Non-exercise activity thermogenesis (NEAT) goes beyond the basic functions to include all non-planned exertional activities, such as walking to your car, going to the bathroom and cleaning your house.
Activity expenditure encompasses planned exercise, like a high-intensity interval training class or a run in the park.
Lofton explains that when we lose physical weight, our BMR also decreases. "In order to maintain that lower weight, we have to make up that change in metabolism by doing something, usually increasing our physical activity expenditure," she says. In other words, you can increase your metabolism to maintain a new weight, but you're not necessarily changing your body's set point. "If we bring the activity back down, then the body will likely go back to the way it was," she says.
Setting Goals and Managing Expectations
If it seems like your set point weight is at odds with your goal weight, don't throw in the towel just yet. "It is not impossible to lose weight and keep it off," says Natalie Digate Muth, M.D., a dual board-certified pediatrician and obesity medicine physician and registered dietitian based in Carlsbad, California. "But it's probably not due to a change in set point but rather a continued and conscientious effort to increase energy expenditure through significant amounts of moderate to vigorous exercise and consumption of healthful, portion-controlled foods."
To make a lasting change, start by upping your level of physical activity. While the Centers for Disease Control and Prevention recommends at least 150 minutes of moderate exercise per week, Lofton says that able, active people should aim for around 240 minutes of exercise performed at an exertional rate — in other words, a leisurely gallop on the elliptical won't cut it: You should be huffing and puffing. And don't ignore strength training, which can improve your overall physique and change your body composition for the better, even if it doesn't necessarily change the number on the scale.
"If you increase your muscle mass and simultaneously decrease your fat mass, your body is more metabolically active," Lofton explains. "So you're burning calories more efficiently even though your weight has not changed. But you're still at the same weight because you have gained muscle and lost the same amount of fat."
Theoretically, then, if you gain muscle and lose fat, you might not lose physical weight, but your body might be satisfied since you're still at your set point and keep you there.
If meal planning is a source of confusion, it may be worth your time to schedule an appointment with a dietitian who can test your RMR and provide you with a recommendation for daily caloric intake. Interestingly, Antonucci sees many weight-loss patients who are chronically under-eating. "They keep getting better and better at the diet game and somehow end up eating less than they need for weight loss," she says. "Their body gets confused and their metabolic rate goes down and they're no longer losing. The only answer is to eat up to their metabolic rate. Then their metabolism will go up, and then they will stay there because their metabolism has changed."
And remember that weight is just one of many available corporeal metrics. Considering body-fat percentage, waist circumference, how your clothes fit or simply how you look and feel is likely to give you a more accurate reading of your level of fitness. "You would be hard-pressed to find a person coming out of my office who can tell you we set a weight-loss goal for any time frame," Antonucci says. "We set very specific, food-oriented, habit-changing behavior and exercise goals that, over time, are probably going to lead to weight loss if it's desirable and healthy for people."
Up the Ante
Holly Lofton, M.D., suggests performing 240 minutes of intense exercise per week. Increase your time under tension with this 20-minute AMRAP (as many rounds as possible), which can be used as a finisher or as a quick, stand-alone workout.
In 20 minutes, complete as many rounds as possible of the following:
5 walkouts to plank push-ups
20 jumping floor-tap squats
15 knee-ins
20 mountain climbers
5 long jumps
10 burpees
20 alternating jumping lunges 
Written by Jenessa Connor for Oxygen Magazine and legally licensed through the Matcha publisher network. Please direct all licensing questions to legal@getmatcha.com.