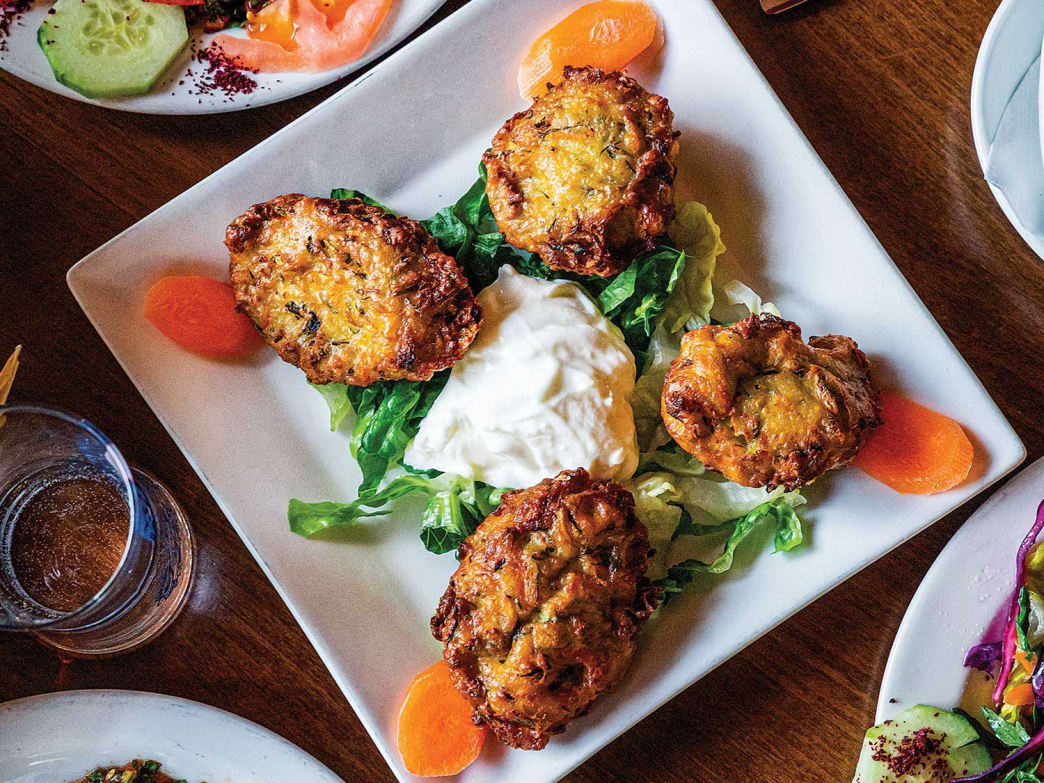 These plump, pan-fried fritters are perfect for early fall, when fresh zucchini is in abundance. While they are most traditionally served as snacks with drinks as part of a mezze spread, they make a good, light counterpoint to heavier, meatier mangal (Turkish for grill) dishes. Serve warm or at room temperature.
Equipment
Colander
Large Bowl
Spatula
Large Baking Sheet
Paper Towels
Large, Heavy Skillet
Spoon
Slotted Spoon
Ingredients
3 medium zucchini, coarsely grated (4 cups)
4 large eggs, beaten
½ cups plus 2 Tbsp. all-purpose flour
3 medium scallions, finely chopped (⅓ cup
¼ cup finely chopped fresh dill
2 large garlic cloves, minced (1 tsp.)
1 tsp. ground coriander
½ tsp. sweet paprika
Freshly ground black pepper
5 oz. feta, crumbled (1 cup)
Canola or sunflower oil, for frying
Labneh or thick plain yogurt, for serving
Lemon wedges, for serving
Instructions
Set a colander in the sink and add the zucchini. Sprinkle 1 teaspoon kosher salt over the zucchini, toss gently to combine, and let rest to drain the liquid for 30 minutes. Then use your hands to squeeze out and discard any remaining liquid.
In a large bowl, add the zucchini, eggs, flour, scallions, garlic, dill, coriander, and paprika, and mix well with a spatula. Add ½ teaspoon salt, a generous pinch of black pepper, and the crumbled feta, and fold in gently to incorporate without breaking up the feta too much.
Set the batter by the stove. Line a large baking sheet with paper towels, and set it by the stove as well. In a large, heavy skillet over medium-high heat, add enough oil to reach ¼ inch up the sides. Once hot and just barely beginning to smoke, spoon a few 2-tablespoon-size scoops of batter into the oil (avoid overcrowding). Lightly press each fritter down with the back of a spoon, flattening it slightly. Cook, turning once, until the fritters are golden and crisp on both sides, 5–6 minutes total.
Use a slotted spoon or spatula to transfer the cooked fritters to the lined baking sheet. Continue cooking the rest of the batter. Serve warm or at room temperature, with labneh and lemon wedges.
Written by Saveur Editors for Saveur and legally licensed through the Matcha publisher network. Please direct all licensing questions to legal@getmatcha.com.