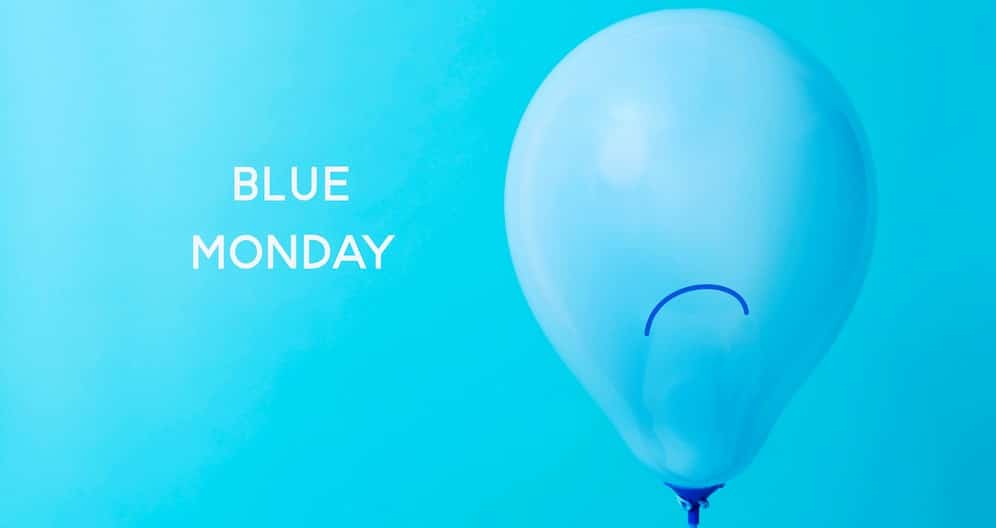 Do you know what Blue Monday is? And no, we're not talking about the song by New Order.
Blue Monday
is the name given to a date in January, usually the third Monday of the month (in 2020, Blue Monday falls on January 20) which is supposed to be the most depressing day of the year. A scientist calculated the date using an equation that takes into account weather, debt levels, time passed since the holidays, time after resolutions have failed, low motivation, and a feeling of need to take action. It's depressing to just think about all that, right?
There's good news, though.
How to Have a Good Blue Monday
Even though you might be feeling the winter "blah's" because the days are colder and longer, and you're trying hard to stick to healthier habits after the holidays, there's nothing especially awful about Blue Monday. Even the scientist who originally "discovered" it, now says
it's all nonsense
. His advice? Use Blue Monday to get some perspective on the coming year, rather than letting it become a self-fulfilling prophecy.
Other experts say that the criteria that are used to "calculate" Blue Monday only serve to trivialize real
risk factors for mental health
: poverty, trauma, loneliness, ongoing stress. The truth is that sadness doesn't have a season and it certainly isn't limited to just one day of the year. There's no doubt that colder weather and shortened days can make people feel sadder, particularly if they struggle with seasonal affective disorder. That's not what Blue Monday is all about, though.
If you find yourself feeling more blue this Monday, or even this time of year, there might be a few ways to turn things around. Below, we're sharing a few tips for Blue Monday blues.
Make time for others
Want to feel less blue? Make time to spend with family and friends. After the busy weeks of the holiday season, it's normal to feel a little lonely. A coffee date or movie with a friend may help you feel connected again. Studies find that
socializing is good for your health
and can balance mood.
Don't forget to exercise
Regular exercise
improves your mood, boosts your energy, promotes better sleep, and generally makes life better. Blue Monday is often the breaking point for many of our New Year's resolutions. If you've fallen off the exercise bandwagon and you're feeling bad about it, this is the perfect chance to get back on it.
Eat things that are good for you
In the dead of winter, it's sometimes hard to eat healthy foods when all you want are comfort carbs. This is often a self-fulfilling prophecy, though, much like Blue Monday: the more comfort food we eat, the less comfortable we feel. To beat the Blue Monday blues, eat a well-balanced, healthy diet. It will keep you energized and
boosts your immune system
.
Get some extra sleep
Sleep is one of the most vital components of a balanced body, believe it or not. Studies have shown that sleep also balances mood, reduces symptoms of depression, and helps our bodies heal. The
benefits of quality sleep
are innumerable. Rest when you're tired and stay away from blue light screens closer to bedtime. This helps your body enter a restorative sleep state faster, which means you'll actually feel rested and upbeat when you wake up.
If sleep feels elusive or you wake up feeling like you didn't sleep in the first place, you might want to consider an all-natural sleep supplement. RestoreZ offers a line of
circadian rhythm sleep supplements
that help drift off gently and get the nutrients you need from sleep.
For a limited time,
use coupon code RESOLUTION to get 10% off your order
today!
Seek help if needed
Worried your symptoms go beyond the "ordinary" winter blues? Seek help from a mental health professional. Also, if you or someone you love is dealing with suicidal thoughts or experiencing emotional distress, call the
National Suicide Prevention Lifeline
at 1-800-273-8255.